Shopping Cart
Your Cart is Empty
There was an error with PayPal
Click here to try again
Thank you for your business!
You should be receiving an order confirmation from Paypal shortly.
Exit Shopping Cart
| | |
| --- | --- |
| Posted on November 5, 2012 at 5:05 PM | |
Vandaag zijn de verkiezingen in de Verenigde Staten.  Het is het begin van een cirkel van vier jaar. Amerika gaat zich uitspraken over de afgelopen vier jaar en over de komende vier jaar. Gisteren was de beëdiging van het Nederlands Kabinet, Rutte II.  De keuzes voor de komende vier jaar zijn gemaakt en het gaat draaien.
Gisteren publiceerde ik over de Deming cirkel.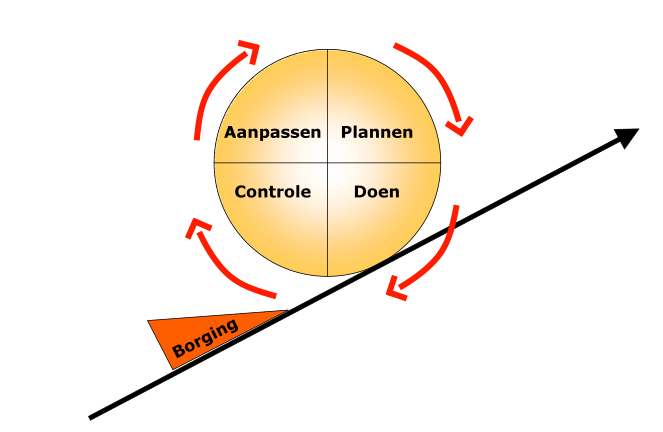 De essentie van het draaien van de cirkel is de herhaling.  Men krijgt een nieuwe kans om het beter te doen dan de vorige keer.  Men kan leren, als men het bewust doet.  En daar wringt nu de schoen op Curaçao.  Een illustratie.  Gisteren gaat de Minister van Financiën naar de Raad van Commissaris van de Raffinaderij om een nieuwe interim directeur te benoemen.  De vergadering gaat niet door.  De cirkel gaat niet draaien.  En dat ziet men over de hele linie.  Maar deze minster heeft het in de gaten.  Hij weet dat het moet draaien en hij zorgt dat de benoeming uiterlijk morgen plaatsvindt.  Zaken moeten draaien. En dat gevoel heb ik nog niet bij de formatie van de nieuwe regering van Curaçao. Ook de begrotingscirkel draait niet, want we zijn laat. De jaarrekeningcirkel draait niet. Onderhoud van gehouden en ga zo maar door.

Het is het geheim van Singapore. En ik doel niet op de beroemde masterplannen van Singapore. Maar ik doel op het feit dat het Kaizen de essentie van de nationale cultuur en de arbeidsethos. Mensen gaan iedere dag door hun taken en doen het iedere dag iets beter dan gisteren. Mensen klagen niet en bemoeien zich niet de hele tijd met politiek. Mensen willen produceren en vinden daar voldoening in en zijn er trots op. Praat maar met de chauffeur van de taxi.  Do what you have to do, and do it well.  Ik heb daar mensen niet horen luisteren naar talkshows of kranten lezen.  Als er niemand in de shop is gaat men schoonmaken.  Peuken van sigaretten worden van straat geveegd. Geen graffiti en geen kauwgum. Jongeren studeren en studeren.

Wij zijn geen Singapore, maar ook hier moeten zaken gaan draaien. Maar er gebeuren ook goede dingen op Curaçao Coco festival van Giro Bank om jongeren te leren ondernemen is goed. Het wordt voor de tweede keer gehouden en er ontstaat dus een cirkel.  En nu iedere keer beter. En nu internet toepassen. Het moet een integraal onderdeel worden van het programma, want dat is de werkelijkheid van vandaag.  Maar het echte probleem voor ondernemers is de mentaliteit van de overheid, met name de belastingdiensten.  Zij zien in iedere ondernemer een belastingontduiker. En daar moet ook iets aan gedaan worden.
De open monumentendag Curaçao was ook een succes.  Het is de tiende keer dat deze cirkel draait! We moeten Dennis Klaus en alle vrijwilligers bedanken en feliciteren.  Het is veel werk voor een groep vrijwilligers.  En toch kan er meer met het internet gedaan worden en het bereik van dit evenement vergroten.  Zo had Bea Moedt een mooie foto rapportage kunnen maken.  Ook had ik meer foto's op de website verwacht. Maar dit zijn enkele verbeterpunten.

Maar Ronald Rouse heeft gelijk.  Er is een gemeenschappelijke visie nodig op Curaçao 3.0.  Wat is het belang van visie? Dan weten mensen waar ze aan werken.  Een visie maakt van een iemand die stenen stapelt of iemand die een muur trekt een bouwer van een kathedraal.  Er zijn nu goede stenen, maar we zien de kathedraal niet.

Ga naar "Home" en wordt lid van de site en wordt zo tevens lid van de Think Tank.
Wat is 3.0? Ik zal het erg kort even uitleggen.
1.0 het feodale tijdperk.
2.0 is het industrie tijdperk.
3.0 is het informatie of internet tijdperk.
Het is ook een knipoog naar Web 2.0.  Web 1.0 was eenrichtingsverkeer op het internet.  2.0 is tweerichtingsverkeer.
Categories: Curacao 3.0, Corporate Governance, Strategic Management
/