Shopping Cart
Your Cart is Empty
There was an error with PayPal
Click here to try again
Thank you for your business!
You should be receiving an order confirmation from Paypal shortly.
Exit Shopping Cart
| | |
| --- | --- |
| Posted on November 4, 2012 at 7:20 AM | |
Ik heb al eerder gesteld dat Curaçao 2.0 verledentijd is. Verleden week zagen we de problemen bij de brandweer en op de scholen.  Allemaal hebben te kampen met gebrek aan materiaal.  Ik heb ook gezegd dat we moeten gaan voor de droom van Curaçao 3.0. Verder heb ik ook aangegeven dat we te laat zijn voor reinventing Curaçao.  We komen niet uit de crisis door te bezuinigen. We hebben weer een financiële injectie nodig.  En we hebben leiderschap 3.0 nodig. 
Maar wat moet morgen gebeuren?  Het moet weer gaan draaien.  En dit is geen retoriek.  Ik refereer naar de Deming cirkel of Kaizen.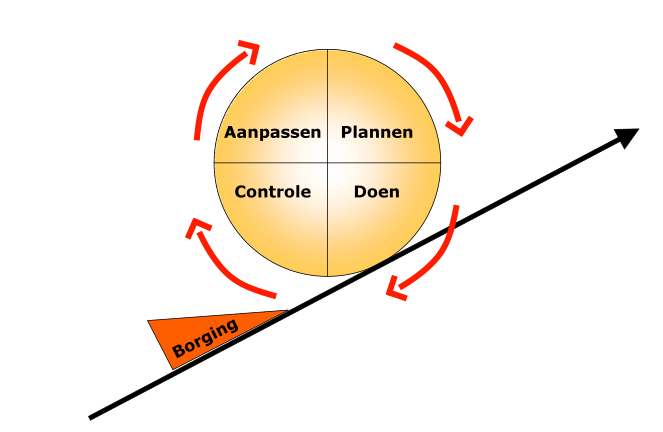 De volgende actoren kennen een cirkel:
Het land Curaçao

De Staten
De Raad van Ministers
De departementen
De Raden van Commissaris
De directies
Management
Medewerkers en ambtenaren
Er bestaat een:
Dag cirkel
Week
15 dagen
Maand
Kwartaal
Half jaar
Jaar
Meerjaren
Iedere actor zou morgen weer naar de planning moeten kijken en daar over weer moeten vergaderen. Alle periodieke overleggen moeten weer conform procedure gaan lopen.  Planningen en evaluaties moeten op tafel en er moeten nieuwe afspraken gemaakt worden.  Het moet blijven draaien. Dus iedere week en misschien iedere dag moet men een uur door de cirkel heen gaan. Zijn de gestelde doelen bereikt? Nee? Wat gaan we er aan doen? Tot dat het probleem is opgelost en we door kunnen naar de volgende uitdaging.
Dit is het geheim van de huidige interim regering van Curaçao.  De Gouverneur stelde de doelen. De Raad van Minister ging weer wekelijkse vergaderen.  Beslissingen werden genomen en instructies gingen naar de departementen. De RvM vroeg om quickscans van de oveheidsNV's. Die gingen ook hun cirkel starten.  De RvM ging naar de Staten.  Ook daar werd de cirkel gestart.
Toen kwamen de verkiezingen, het begin van de vierjarencirkel.  En volgens mij is het daar niet goed gegaan, want er waren geen plannen.  Er zal dus snel een plan moeten komen.  Jammer is dat de kiezer zich niet heeft uitgesproken over het plan.
Maar laten we bij het begin beginnen. Jouw eigen persoonlijke cirkel.  Wat zijn jouw doelen? En laten we ons beperken tot de doelen op het werk.  Wat is jouw planning? Wat is jouw dag planning? Wat heb je af en waar moet je in Gesprek 3.0 met de leiding om bij te stellen?  Voor het persoonlijke traject stellen we de cirkel van Chris Argyris voor.  Met name willen we wijzen op de dubbele loop.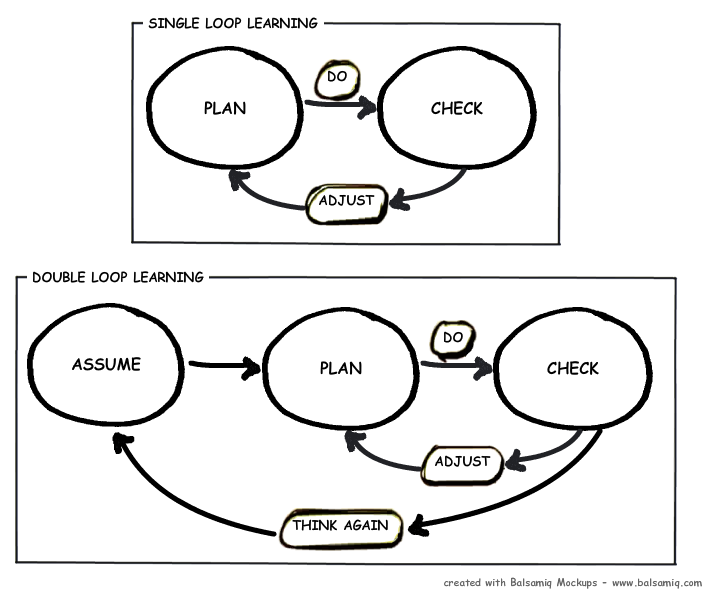 Wordt lid van de site en wordt zo tevens lid van de Think Tank.
Wat is 3.0? Ik zal het erg kort even uitleggen.
1.0 het feodale tijdperk.
2.0 is het industrie tijdperk.
3.0 is het informatie of internet tijdperk.
Het is ook een knipoog naar Web 2.0.  Web 1.0 was een richtingsverkeer op het internet.  2.0 is twee richtingsverkeer.
Categories: Curacao 3.0, Corporate Governance, Strategic Management
/